Gastronomy in Sevilla

The typical cuisine of Sevilla is like throughout Andalusia, light, healthy and always prepared with fresh Mediterranean ingredients. The use of olive oil for cooking in Andalusia has proven to decrease the possibility of heart diseases, improve the blood circulation and digestion and the oil as well is rich in vitamins (A, D, E, K).
Among some of the more classic Andalucian plates you can find in Sevilla are Gaspacho (mainly during the summer) a soup made by fresh blended vegetables (see recipe below).
The location of Sevilla close to the ocean has made seafood a common cuisine in Sevilla. Among the most popular plates you can find are fried fish or grilled fish like red snapper, white bream and sea bream.
If you want to try something very typical from Sevilla the 'Rabo de Toro' (bull's tail) or 'Huevos a la Flamenca' (fried eggs in a spicy tomato salsa with sausages) are two good examples.
Sevilla is also known for its many tapa bars (bars which serves a small snack). Among the more popular tapas in Sevilla are 'Jamon y Queso' (Spanish ham and cheese), 'Pinchos Morunos' (spicy meat ala shish kebab) and 'Boquerones in Vinagre' (small fish which has been marinated in vinegar for day).
Gaspacho Recipe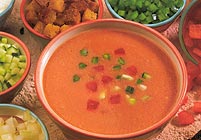 Ingredients:
8 Tomatoes
2 Small Cucumbers
1 Clove of Garlic
1/2 Onion
2 Green Peppers
3 Spoons Olive Oil Vinegar, salt, pepper and water.
Apart from the above ingredients you need a blender.
To prepare a good Gaspacho is a simple and quick job. First Clean and part the vegetables. Then puree all ingredients in a blender for about 5-10 minutes. Strain, discarding any vegetable pieces that did not puree fully. The Gaspacho is served best cold.