Check one or more of the categories listed below to see them displayed on the map:
If you have any suggestions to new places to include in our map please click here (it only takes a couple of minutes).
Click on the icons displayed on the map for details. You can zoom in or out by using the + / - buttons at the top left corner or with the scroll feature on your mouse.
---
Open Air Activities in Malaga
Malaga is a province that offers a great variety of open air activities, which are either free or very cheap to enjoy. Apart from the many beaches all over Costa del Sol the natural surroundings of the town, bounded by mountains, offers people who like trekking, rock climbing, mountain biking, etc. perfect conditions.
Malaga also has a lot of nice parks and gardens where people can relax in the open air. To mention a few there are Gardens of Pedro Luis Alonso located behind the town hall, La Consuela a park from the 19th century in the area of Churriana and El Retiro with its subtropical species, a botanic and an ornithological park.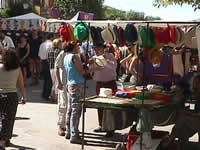 For people interested in doing a nice bargain there are two major street/ flee markets in Malaga. On Wednesdays there is the street market in the area Huilin open from 9.00-14.00. There you can buy everything from clothes and shoes, to fruit and electronics. On Sundays from 9 .00 -14.00 there is a market next to the Stadium La Rosaleda. This market is mainly for clothes and none consumable products.