Check one or more of the categories listed below to see them displayed on the map:
If you have any suggestions to new places to include in our map please click here (it only takes a couple of minutes).
Click on the icons displayed on the map for details. You can zoom in or out by using the + / - buttons at the top left corner or with the scroll feature on your mouse.
---
Sport in Madrid
Sport Entertainment
In Madrid you find top professional sport entertainment of many different types. If you are interested in soccer you can find the first division clubs Real Madrid (Estadio Santiago Bernabeu) and Rayo Vellecano (Estadio del Rayo Vellecano) competing in one of the of best soccer leagues in the world. You even have the choice of participating in the official Real Madrid soccer summer tournament. See https://www.ertheo.com/en/real-madrid-camp.htm for more information about how to participate in this unique soccer camped arranged in the official installations of Real Madrid at Valdebebas with official Real Madrid Coaches.
In Madrid it is also possible to find international basket. One of the local clubs Real Madrid basket club is competing in the euro league with the best basket clubs in Europe.
For people more interested in golf the international European Tour (Volvo Masters) visits the province of Madrid each year in autumn.
Apart from sport entertainment it is nearly possible to practice all can of sport activities in or around Madrid. The town is full of public sport installations and private clubs and in spite of the geographical location it is even possible to practice water sports in the nearby lakes.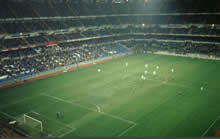 The most popular sport to practice in the capital is still soccer although sports like basket is becoming more popular. The climate and the lack of space has made it popular to play indoor football (futbol sala), 5 against 5 in a smaller playground. The local government arranges several championships where everybody with a team can participate.
The many mountains surrounding Madrid makes it a perfect place for rock climbing, trekking or mountain biking.
For people who are looking for more traditional sport activities such as tennis and golf it is also easy to find.
Below you can find some examples of where to practise different sport activities.
Adventure Sport
-Rock Climbing, Trekking, Mountain Biking;
Falta
Antonio Lpez, 156.
Phone: 914 766 566
Activate
Phone: 913 169 674 - 616 625 411
http://www.activateya.com
Guias y Tecnicos de Montaña
Salustiano Olozago, 14.
Phone: 915 780 033
-Rafting
Rafting Llavorsi
Phone: 973 622 158
http://www.raftingllavorsi.com
-Air Sport
Paragliding Parapente de Madrid Al Cielo
Av. Mediterrneo, 35.
Phone 91 552 84 33
Paragliding, Kitesurfing Alam Air
Mar de Kara, 10
http://www.alamair.com
Globe flying
General Zabala, 21.
Phone: 915 613 968
http://www.globosboreal.com
-Motor Sport
Go-Cars Soto
Ctra Colmenar a Soto, 6km.
Phone: 918 476 100

Golf
Club de Campo Villa de Madrid
Ctra. Castilla, km 2. 28040 Madrid
Phone: 91 950 20 10
This 18 whole golf course was designed in 1932 by Javier Arana. This course is open all year and is situated between la Casa de Campo and Monte El Pardo in the East of Madrid. Apart from the golf course it is possible to play paddle squash, tennis and the installation has its own swimming pool and restaurant.
Golf Olivar de la Hinojosa
Avda. de Dubln, s/n. 28042 - Madrid
Phone: 91 721 18 89
This is an 18+9 whole golf course designed by Jose Rivera in 1996. It is situated near the airport Barajas. Apart from the golf course it is possible to play paddle, squash, tennis and the installation has its own restaurant.
Club de golf la Dehesa
Av. De la Universidad,2 - 28691 Villanueva de la Caada
Phone: 902 157 022
18 whole course including paddle and tennis facilities.
Water Sport
-Diving
P.A.L.A.S. Submarinismo
Av. Cardenal Herrera Oria, 173.
Phone: 91 730 34 62
Escuela internacional de buceo Zoea
Laguna Grande, 3.
Phone: 91 739 82 97
http://www.zoea.com
-Sail Sport
Sail sport School Nautimar Capitn
Princesa, 10.
Phone:91 548 21 10
Windsurf School Surf 3
Fernandez de los Rios, 8.
Phone: 91 594 33 52
-Public Swimming Pool
Piscina Moscardo
Andrs Arteaga, s/n.
Phone: 91 476 63 53
Public Swimming Pool Arian
Flora, 3.
Phone: 91 559 05 14
Other Sport

-Public Sport Installations
Facilities - Tennis, Paddle, Indoor football, Basket, Volley ball etc.
La Latina
Toledo, 56..
Phone 91 365 80 31
Barrio de Pilar
Av. Monteforte de Lemos, s/n.
Phone 91 314 79 43
La Elipa
Parque de la Elipa s/n.
Phone 91 430 35 11
Triangulo de Oro
Bravo Murillo, 378.
Phone 91 571 41 17
-Roller & Ice Skating
Ciudad Deportiva del Real Madrid
Paseo de la Castellana, 259.
Phone: 91 215 00 46
-Ski
Puerto de Navacerrada
Madrid Information Office: Casado de Alisal, 7.
Phone: 91 230 55 72.
Location: 60km. from Madrid on the N VI.
Puerto de Navacerrada has 12 slopes, 5 chair lifts, 6 ski lifts and 1 children's ski lift.
Valcotos
Madrid Information Office: Felipe lV, 12.
Phone: 91 239 75 03.
Location: 70km. from Madrid on the N VI.
Valcotos has 10 slopes, 2 chair lifts and 6 ski lifts.
Valdesqui
Madrid Information Office: San Ramn Nonato, 1.
Phone: 91 215 59 39.
Location: 73 km. from Madrid on the N VI
Valdesqui has 8 slopes, 2 chair lifts, 6 ski lifts and 2 children's ski lifts.