Check one or more of the categories listed below to see them displayed on the map:
If you have any suggestions to new places to include in our map please click here (it only takes a couple of minutes).
Click on the icons displayed on the map for details. You can zoom in or out by using the + / - buttons at the top left corner or with the scroll feature on your mouse.
---
Leisure & Entertainment in Madrid
Below you can find information about activities that you can visit during your stay in Madrid. If you are looking for information about tourist activities, guided tours, etc in Madrid please see our section
tours in Madrid
. We can recommend the following activities:
-
City Tour and Bullfight in Madrid
-
Torres Bermejas Flamenco Show
-
Madrid by Night with Dinner and Flamenco show
-
Real Madrid Bernabeu Stadium Tour
Attraction Parks
In and around Madrid there are several attraction parks that are worth a visit. For people interested in Animals and marine live there is the Madrid Zoo, which also has an aquarium park and is situated in Casa del Campo (Metro Batan). Safari Madrid situated south of Madrid on Aldea del Fresno (Ctra. De Extremadura, km. 32) is a zoo park where you can find animals living in partial freedom. In this park, which is only accessible by car, you can discover lions, monkeys and it also has a petting zoo for small children.
Apart from Madrid Zoo Casa del Campo also host a big amusement park and the Cable Cars with the best views over the town. In San Martin de la Vega a small village located only 25 km from Madrid capital are located the new amusement park Warner Park. This second Warner Park in Europe was inaugurated in April 2002 and contains 25 different attractions, 7 spectaculars, 17 restaurants and 14 shops.
During the summer the many aqua parks and public swimming pools situated in and around Madrid, can be a refreshing experience during the hot summer. Throughout the winter the community of Madrid sets up a big public ice skating arena in Plaza Felipe II near Goya.
Opera, Ballet & Classic Music
For people interested in opera, ballet or classic music there are several interesting alternatives in Madrid. The opera of Madrid is located near the Royal Palace and the metro station opera and normally has big international artists on the program.
For ballet lovers we recommend the Theatre of Madrid (Teatro de Madrid) and for classic music enthusiasts the National Music Auditory (Auditoria Nacional de Musica), which both have a high-quality program throughout the year. The Theatre of Madrid is located on La Vaguada, Monforte de Lemos, s/n near the metro station Barrio del Pilar-Herrera Oria and the National Music Auditory is located on Principe de Vergera, 146 near the metro station Cruz del Rayo.
We advise people interested in the above to book tickets in advance.
Theaters
Going to the theatre is a good way to experience another part of the Spanish culture. In Madrid you can find a large number of different theatres playing everything from classic Spanish theatre to international musicals. The majority of the theatres in Madrid lies on Gran Via or in the district around the Opera.
Cinemas
If you are here in Spain to learn Spanish the Cinema is good option. Nearly all movies are translated into Spanish, which at the beginning can be annoying but definitely will help foreigners to improve their Spanish. It is also possible to find cinemas in Madrid, which doesn't duplicate the Movies. Cinemas can be found all over Madrid with the majority around Gran Via and in all the commercial centers.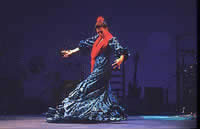 Spanish Entertainment
When travelling to Spain it can be highly recommended to see one of the classic flamenco shows. The Flamenco music and dance has its origins within the gipsy population in Spain and several Flamenco clubs can be found in the capital. (Corral de la Moreria located on Moreria, 17 metro Opera or Las Carboneras located on Plaza Conde de Miranda, 26 metro Sol can be recommended).
Other
If you just want to go out and have fun or a friendly competition you can always find bowling, go-carts, dart or pool all over Madrid. For people interested in gambling you can find bingo's and smaller gambling halls throughout the capital and the Casino Madrid is situated on Alcala, 13 near the metro Sevilla.