Barcelona Photos
Who says Barcelona says Gaudi and who says Gaudi says beautiful impressive art. Gaudi can be found throughout Barcelona, Gaudi is everywhere; houses, churches and even a complete park is designed by Gaudi. Below you see a house designed by Gaudi.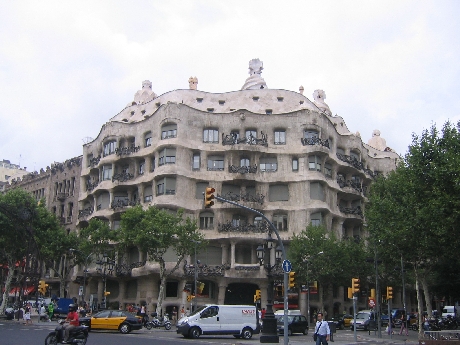 Casa Mila La Pidrera
Casa Mila La Pridrera is a typical Gaudi design. It is located in the middle of Barcelona. On top of the building are impressive chimneys to be found. Normally a picture says more than a thousand words but to experience the impressiveness of this Gaudi creation you have to stand right in front of it. Its magnitude, all the little details and the perfect and astonishing design make it a tourist draw that is not to be missed. Be aware that if you want to go inside Casa Mila La Pridrera that there's quite a queue but if you go early you might be lucky.
La Sagrada Familia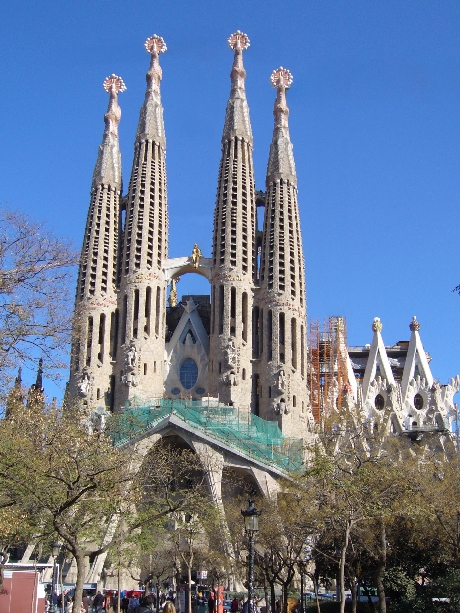 La Sagrada Familia is the pride of Barcelona. La Sagrada Famila is located in the center of Barcelona and surrounded by buildings and a small park. From the park there's a magnificent view of La Sagrada Familia. The four gigantic towers make it one of the most impressive churches in the world. La Sagrada Famila has two entrances, both in different styles. Here you can clearly see the large period of time that has passed since the beginning of construction.
La Sagrada Familia - Under Construction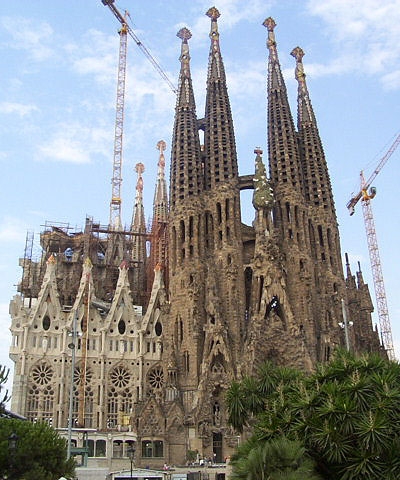 To see La Sagrada Famila without construction and cranes is very hard; you have to be lucky. Since the church is still unfinished Barcelona keeps working on it. In Barcelona you hear echos of a forerver ongoing project since new sections are being designed throughout the years. If you visit Barcelona and find La Sagrada Famila wihout cranes and scaffolding it probably doesn't mean that the project is finished but that the local government has temporarily run out of money for the project. If you happen to get lucky and visit Barcelona during such a period, be sure to enjoy it and take a lot of pictures!
The impressive view from La Sagrada Familia.

The impressive beautiful view from La Sagrada Familia. This panorama is taken from one of the towers. When you visit La Sagrada Famila you have the opportunity to climb the stairs of one of the towers. Seize this opportunity and experience this panorama of Barcelona for yourself!
Parque Guell - Reptil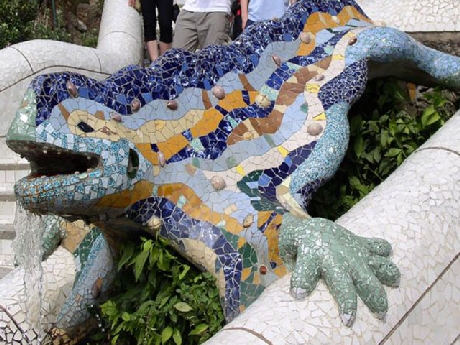 Parque Guell is a beautiful park with a lot of architectural tour de forces. Above you see a reptile of mosaic besides this there are beautiful paths, a neverending mosaic bench, atonishing buildings at the entrance and even is own house is situated in the park. Be aware that lot of the beauty is best seen early in the morning when not a lot of tourists are present.
La Marina de Barcelona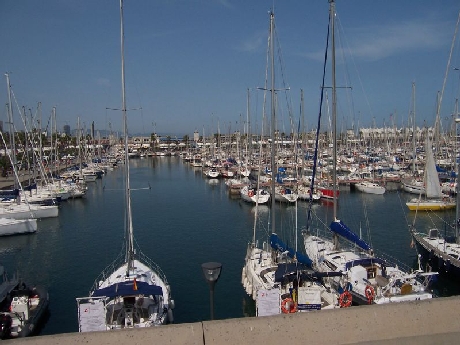 Being located at the the Mediterranean sea makes Barcelona a perfect location to visit by yacht. As you can see on the picture a lot of sailers moor here giving it a less poshy more sea worthy look.
Teatre del Liceu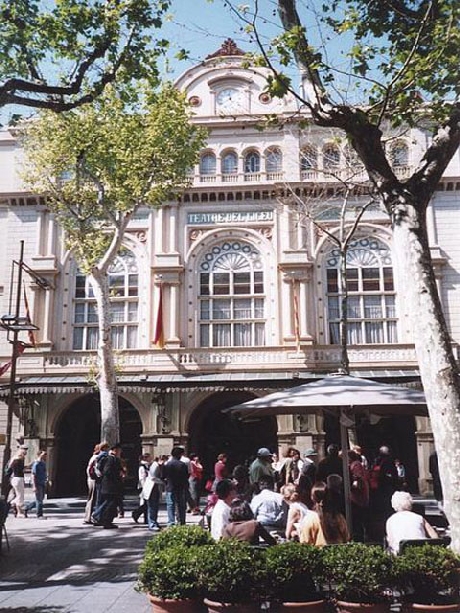 This beautiful opera house is founded in 1847 and has retrained its role as a culture and arts centre. It is one of the city symbols and worth to visit wheter for an opera or other cultural expression or just to enjoy the beauty of the building. For more information look on the website of Teatre del Liceu.
Other beautiful architecture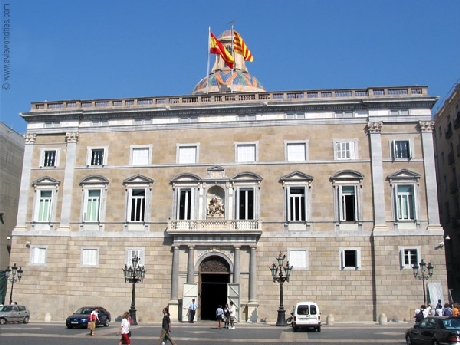 Besides Gaudi Barcelona itself is one big concentration of beautiful architecture. Classic and modern meet each other in a very special way. A picture says more than a thousand words, but not even the best picture can show you the special feeling that Barecelona gives you!